Strands
One of the most attractive looking hairstyles if anyone can enjoy is the shag cut. The hair is so beautifully cut in different layers and as it moves up the hair gets shorter on the crown. If you want to do it yourself you can, with the assistance of somebody. The shag haircut can surely turn a lot of eyes on you and win you many secret admirers.
The shag haircut can be found common in both men and women and it is suited to short, medium and long haircuts. So men and women can try the shag in different ways except that it should look more suited to the gender.
Just look at your
self in the mirror and decide what length of hair you would like to maintain. Some faces may look smart and handsome with the short shag while others may look better with the long shag.
In case your friend is going to do the shag for you, then he/she must be careful enough to start using the razor in small bits so they haven't cut too much to make the shag a disaster. The hair around the crown area is cut short enough while moving down the sides and backside of the head, the strands are kept longer. This is how the hair is cut in layers.
To have good looking shag it is vital that one has grown his/her hair properly. You need a good amount of hair length for trimming it in layers to achieve this hairstyle. The hair on top stands up when cut short compared to the layers which are longer. The standing hair adds to the beauty of this hairstyle. Men who want to keep bangs can keep them covering their forehead or even have them cut off depending upon personal choices.
---
STYLE YOUR HAIR CASUALY, SUMMER FALL 2010 TIPS
What kind of style would you like to choose for your hair? The answer can be simple as well as difficult. In case you like one time too many, then probably you could end up being confused about making the right choice. But still, you have many options and each time you cut your hair and trim it to a certain length then you may have to wait for it to grow for a couple of months to experiment on something new.
Casual Wavy Hair, Summer Fall 2010
So why not try the different styles if you are not able to make up your mind. Certainly, most of them look exotic and attractive. Both men and women have a range of options to select from and they can be confident enough to experiment as each haircut is focused on creating good amount of attention from onlookers. First and foremost, you need to decide if you want to keep your hair long or short or medium. Some men love long hair and they really pay a lot of attention to take care of it. Long hair is not easy to maintain and men generally trim the ends to avoid split ends and give it a regularly washing.
Casual Curly Hair, Summer Fall 2010
Women who love keeping their long hair can try the variations of the long cut hairstyle by adding curls to their tresses. Some women, who have curly hair naturally, can try the straightening and let their strands just fall long and straight. The bangs can be used to their advantage of good looks by brushing them either straight so they just fall up to the eyebrows or even use the side-swept option with long tresses just hanging loose.
Casual Updo Hair, Summer Fall 2010
Some updos are just great to look at when a good volume of hair is fixed on top with some strands pleated on the back and the rest just let loose on the sides.
---
Shaggy hairstyles are making a fast comeback. They started creeping back into the spotlight in 2009, and now in 2010 they are as popular as ever. Many celebs are now starting to wear shags, such as Lisa Rinna. The shag hairstyles may seem messy, but they are classy and sexy. Shags are very easy to maintain, and if you prefer longer hair, you can have a shaggy hairstyle in any length that you want.
Shag hairstyles are perfect for women or men who have busy lives. There is not much styling to do, yet the hairstyles show off a bold, confident, and funky attitude. Many times shag hairstyles are cut in layers, but it depends on the kind of shag that you want how the layers are worked into your hair, and even the types of layers. For example, a sexy short shag will have several layers framing your face with a few more to add volume to the back. The layer that is furthest from the crown of your head is usually the longest and gives a sleek and flowing appearance to your shag.
When you have a shag hairstyle, you have a hairstyle that is very versatile. You can adjust your hairstyle to suit your own personality. Add highlights or lowlights to add shine and some depth to your hairstyle. You can have long strands that will caress your face – this is perfect for a square face, as it minimizes the harshness of the square shape while being extremely pretty and feminine. Lots of volume means that those with fine hair will be able to enjoy fuller looking hair. You can even add extra volume with volumizing hair spray or use gel and slick your hair down for a good office style.
---
Looking good for prom can be hard, but an elegant hairstyle can be easy! Braiding your hair into a bun can be very flattering to lift the hair away from your face. It can also be a sexy look because it exposes the neckline and shoulders.
Before you raise you hair up, consider your face shape. If you are going to pull the hair up all the way into a bun, then you will want to have an oval or heart shaped face because it will be very flattering. You will also want to have smaller feminine features to accentuate because with larger foreheads or noses, this look will simply but your face out of balance.
If you have a round or elongated face, or you have large features, you can still pull off a braided bun look by adding a side swept bang combination to break up the lines of your face and lessen the overall effect of the 'up' hairstyle. You can also create new looks with a combination of bun and some long layered strands along your face.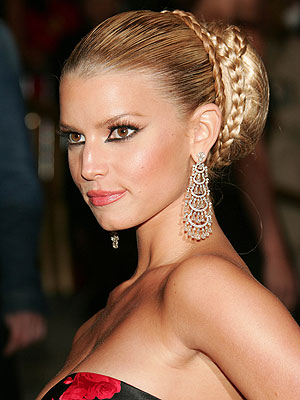 A more modern and fun look can also be created by putting the bun to the side of your head. This look is still an 'up' style with a modern twist! Your hair looks like a beautiful flower if it is done right. But for women with really thick hair, you will look like you are hiding a softball in the flower, so this look may not be for you. You will have to experiment a little before you are sure, but take some chances and see if the braided bun works for you!
---
PROM HAIRSTYLES FOR LONG HAIR 2010

Long hair is wonderful for the prom because the possibilities are endless. Long hair is very versatile, and you can do tons of different things with it. Updos are always good, but so are styles that let your locks hang loose and flowing. Prom should be remembered happily, so it's vital that you have a great hairstyle. Here are a couple of styles that are great for prom if you have long hair.
Taylor Swift Prom Hair Idea
A messy bun with a headband is a great look. It's modern, trendy, yet traditional enough that you won't have to worry about appearing strange in your prom photo years later, nor will you regret not having a more traditional style. To get this style, you need day old hair – the oils will hold your hair much better. Backcomb the top of your hair and tie into a ponytail around eye level. Put a headband around the crown of your head. Double row ones that are thin are perfect for this. Then just wrap the remaining hair around the tie and pin in random places. If some strands escape, let them. Add jewels, flowers or whatever else you want. You can even find headbands that are covered in pearls to make this style elegant!
A side ponytail may sound too simplistic for prom, but it truly is a beautiful style. Wash and blow-dry your hair, parting it on one side. Have the part line up with the center of one of your eyes and secure the hair to the side with elastic. Then take a strand of hair and wrap it around the elastic to hid it and pin. Straighten your hair and add shine serum for a sleek and classy look, curl for a look more playful, or add accessories to make a gorgeous yet simple hairstyle.
---
Not all women are born with beautiful natural curly hair. Spiral perms whether permanent or temporary might be the solution if you're longing for a hairstyle with volume and texture. Spiral perm styles are considered an ageless hairstyle. They are often associated with the fashion of the 80's and are making a comeback today. It can be worn by whatever age and occasions as well. It creates a beautiful, glamorous, and flirtatious overall look.
The difference of spiral perm hairstyles from other perms is the method by which it is done. Though it uses the same products, the way in which the hair is curled is different. The hair is treated with chemicals then wrapped around the rod in a screw like or spiral manner. Hence the name spiral perm. The rods define the size or how loose the curls will be and gives the effect to the resulting perm. Horizontal rods are used are used for perms that are closer to the head.
Before going to your stylist, consider the wave pattern and texture of your hair. These are very important because they will the basis for the size of the rods that will be used on your hair. If the wrong size of the rod is used, your hair will spell disaster when it grows back. If you plan to wear bangs with your spiral perm, make sure your stylist uses the largest rod available. Also, remember to check the condition of your hair before getting a spiral perm. Perming uses chemicals that can ruin your strands and may cause irreparable damages.
---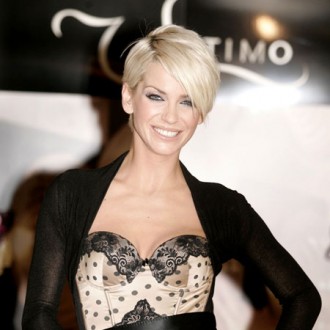 SARAH HARDING STUNNING SHORT HAIRCUT STYLES FOR SUMMER 2010
Sarah Harding hairstyles tend to be short and stunning most of the time. She sports very unique hairstyles that add volume and height to her hair with layered hair. The various layers are quite risky for someone with short length hair. However, each of her hairstyle fits her facial shape and attitude. The hair on the crown area and sides of her face are layered. An uneven cut is done to the ends adding more height to her hair.
Sarah Harding Hair
Recreate this unique look with the help of a few simple tips. First, you will need to have a layered haircut. The shortest layers should be in level with your ears. With a hair cream, apply evenly on your hair with an inward motion. Use a hair blower to style your hair and a round brush. The strokes should be kept down and inward going towards your face. You can add highlights to some strands on your hair that matches your eye color. Your fringes can be kept to the side or cut across your forehead. For the choppy look, have your bangs straight from side to side.
Sarah Harding Hair
For a more glamorous touch, finish the look by using a flat iron to smoothen out the ends of your layers. You can also start from the roots if you want a clean look. But if you are in a sassy mood, you can just iron the ends of the hair. Whether you want the classy or choppy look, the layers can give you a great look with the right hair applications.
Sarah Harding Hair
---