Heidi Klum attended the "Get Schooled" conference and premiere in Los Angeles. The premiere was held at the Paramount Pictures Lot. The mother-to-be looked radiant.
Lots of women end up wearing baggy sweat pants and an oversized T-shirt when they are pregnant because it's hard to find really pretty maternity clothes that actually fit comfortably. Heidi looked comfortable and great. She wore a loose, sleeveless tunic in a shiny black. The end of her tunic faded into white then blue, almost like a tie-dye. She paired it with a pair of black leggings. Her shoes were a gorgeous pair of grey high heels; how she can even walk in heels while being pregnant will remain a mystery. Heidi kept it simple with accessories, wearing only her wedding ring.
Pregnant Heidi Klum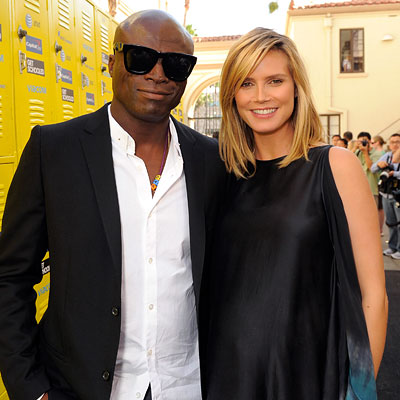 Heidi was glowing with happiness. Her hair and makeup style were great. Her hair was shoulder length and cut in layers. She parted it on the side and brushed her bangs to the side and almost over one eye. The ends of her hair had some slight curl to it. The style was easy and carefree, easily duplicated by anyone who might want to try it out. Her skin was flawless. She wore just enough makeup to look good, but she didn't really need to wear any at all. She wore eyeliner and a pink lipstick that went well with her coloring. Heidi is proof that pregnant women do not necessarily have to borrow their husbands' clothes; they can look great with a simple outfit as long as it's comfortable and fits well.